The Shrine Church of Saint Melangell
Saint Melangell's Church and Shrine
The Shrine Church of Saint Melangell; is one of the loveliest small churches in Britain, and one of the most remote. Its famous shrine attracts many visitors, but not enough to disturb its tranquillity.
The Church is a Grade 1 listed building and there has been a Christian Church here for over 1200 years. Its setting, in a place of great beauty deep in the Berwyn Mountains, is peaceful and unspoilt. The church stands in a round churchyard, once a Bronze Age site, ringed by ancient yew trees estimated to be two thousand years old. Parts of the building date from the 12th Century though the most recent, a rebuilding of the apse on its original foundations, was completed only in 1990. The impression is still that of a simple Norman church, well loved and beautified over the years.
The Shrine Church of Saint Melangell contains a fine 15th Century oak screen with carvings that tell the story of Melangell and Prince Brochwel. There are also two medieval effigies, one of which is thought to represent the saint; a Norman font, a Georgian pulpit, chandelier and commandment board, a series of stone carvings of the hare by the sculptor Meical Watts, and the mysterious Giant's Rib.
The church's greatest treasure is the 12th Century shrine of Saint Melangell. This was dismantled after the Reformation and its stones, carved with a strange blend of Romanesque and Celtic motifs, were built into the walls of the church and lych-gate. They were reassembled in the last century and have now been re-erected in the chancel. The result is an impressive monument, unique in Britain and recently described by a leading scholar as 'of pan-European significance'. Bones said to be those of the saint have been deposited within the shrine. In 1987, the church was in such a poor state that repair was impossible and a full-scale restoration was necessary if it was to be saved. This work was begun in 1988 under the Rev'd Paul Davies and his wife Evelyn, and was completed in 1992 at a cost of £170,000.
There is no resident congregation here as the Parish Church is in Llangynog. St Melangell's Church has always been a Pilgrims' Church, and visitors come from all over Britain and beyond. In summer groups from other churches and chapels often attend our Sunday afternoon service, with refreshments to follow, and parties of pilgrims arrange visits during the week. Prior arrangements need to be made with the Centre Director so that groups can be comfortably accommodated and the necessary catering arrangements made. There are no endowments and no financial support from Church or State. We hope that you will want to contribute to the upkeep of this beautiful building and to the ministry here.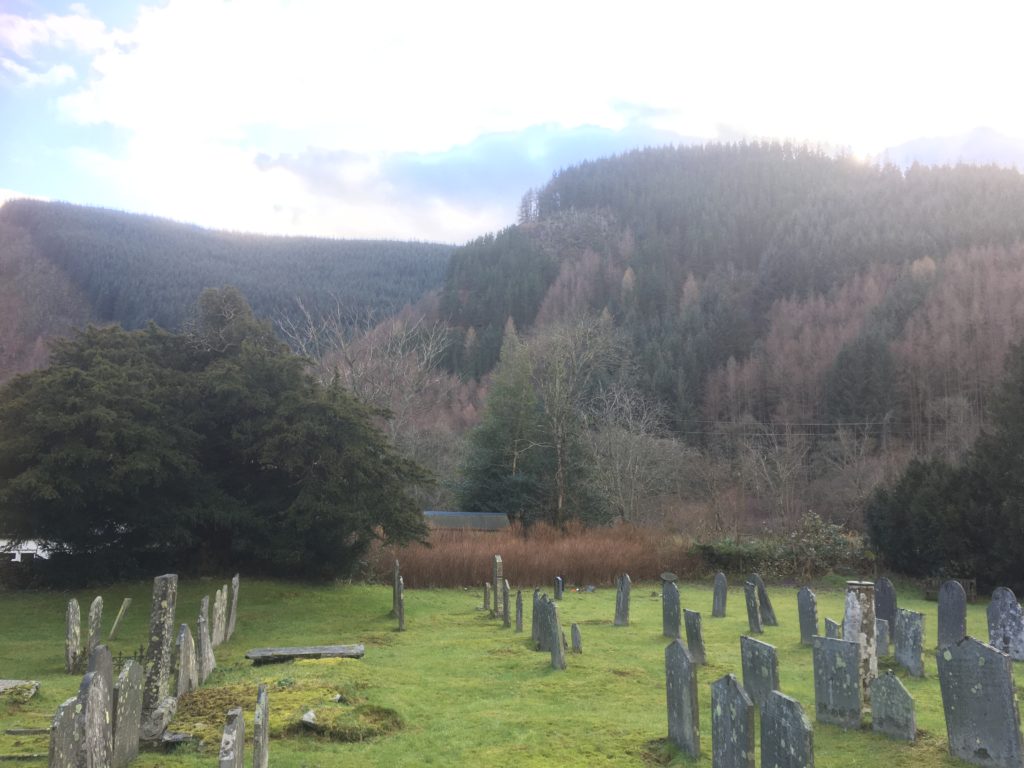 Pennant Melangell is a place beyond words and far from the rush of 21st century life; a place where God speaks in the silence and where all people have an opportunity to experience a sense of the Holy. The restored church is open daily for prayer and worship and we welcome all pilgrims and visitors and look forward to welcoming you on your pilgrimage and hope you will take away a lasting sense of the peace of Christ.